These sea bass morsels are bursting with flavors and fun textures. This dish is bold, rich, and takes a few minutes to construct...but will hold up to a red wine pairing like a champ and leave your guests saying 'wow'.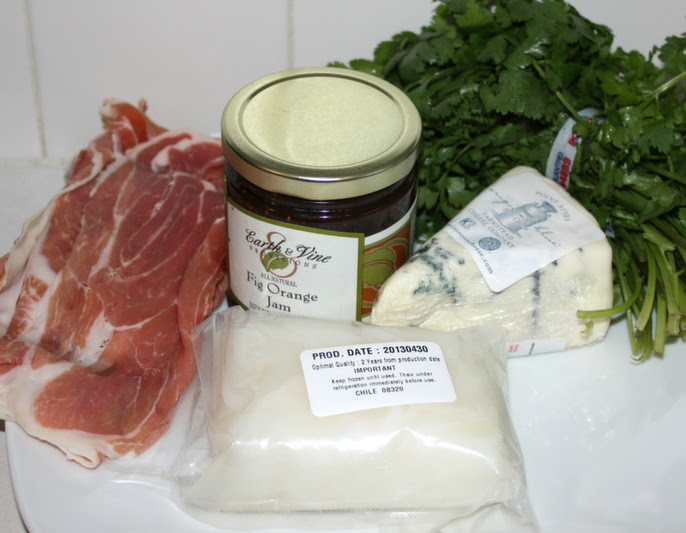 I've purposely created a holiday appetizer recipe utilizing a fish that we sell as a frozen product, so that there's no need to do last minute shopping and your can save your nerves from the extra frazzle associated with needing ultra-fresh ingredients. We offer Chilean Sea Bass portions in vacuum packed packages, and you can easily store them in your freezer at home for several months without concern. They thaw overnight in the refrigerator, or within an hour in a cold water bath in the sink. 
ingredients
8oz portion boneless, skinless Chilean Sea Bass 
8 slices prosciutto
savory jam (I used a fig jam for the example.)
blue cheese
sprinkle of salt
Pre-heat your oven to 385 and line a baking dish with parchment or foil for easy clean-up. Open up your fish and slice it (the short way) into 8 equal pieces. Give the fish a small sprinkle of salt for flavor, and lay out your slices of prosciutto. In the middle of each prosciutto slice, place a piece of the fish, a dab of the jam and a few crumbles of the
blue cheese. Wrap the edges of the prosciutto around the ingredients stack and place it in the baking dish.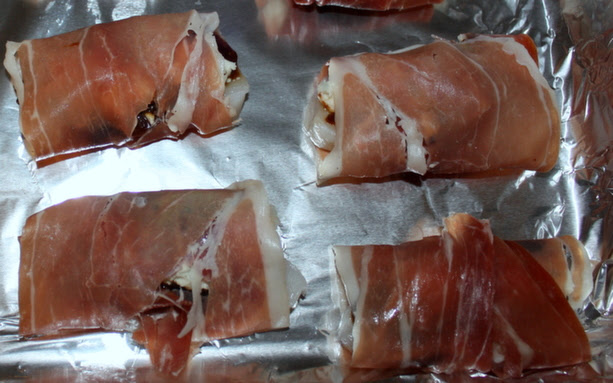 Repeat this process until all of your fish pieces are stuffed and wrapped, and then pop the pan in the oven for 5 minutes. When your timer bings, turn the temperature to 'broil' and cook for an additional 4 minutes. Remove the fish from the oven and let it cool for a couple of minutes, then with a spatula, place each chunk on a cutting board and slice in half. Serve the bite-sized pieces with toothpicks or cocktail forks and a splash of red wine and... enjoy!